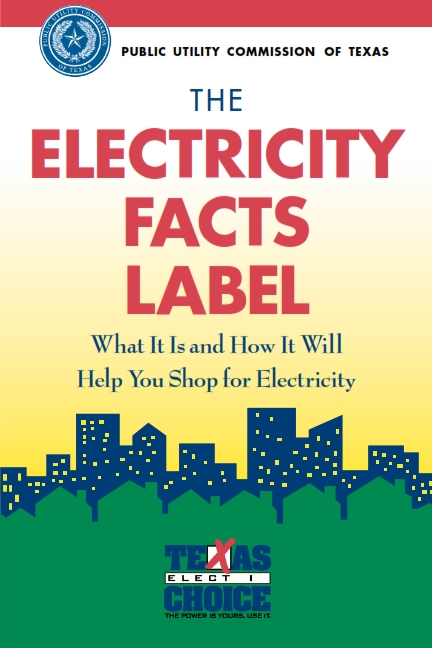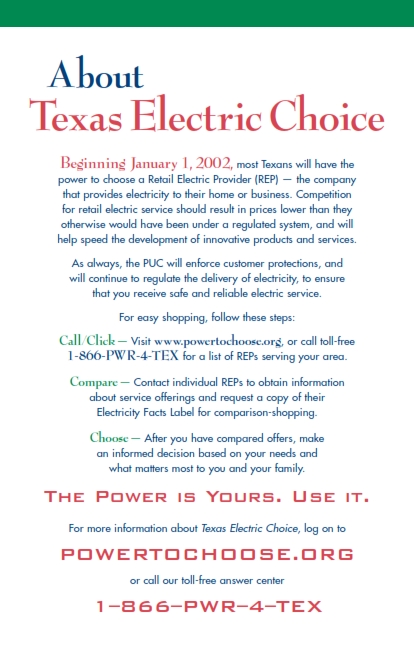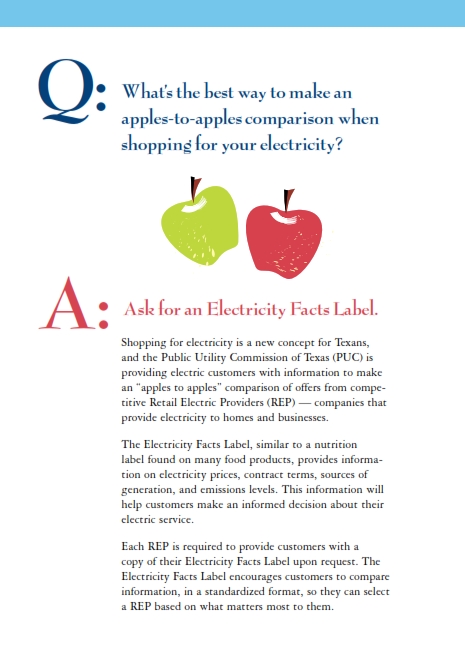 Click Here ☛ for Home
Electricity rates❕
Click Here ☛ for Commercial
Electricity rates❕
🕵️🕵️🕵️🕵️🕵️🕵️🕵️🕵️🕵️🕵️☛☛ Buyer Beware in regards to buying 🔌Electricity 🔌in Texas 🌟 Why ? ☚☚ 🕵️🕵️🕵️🕵️🕵️🕵️🕵️🕵️🕵️🕵️


Texas, Rep (Utility Companies) NOW have become more creative in orchestrated a way to manipulate the Facts Label to show a meager rate on Residential Electricity Rates in their Facts Label, and still, abide by PUC Rep Regulation. This PUC regulation was supposed to make it possible to compare apples to apples and not apples to oranges. Well, not anymore!!!

The following is a further explanation of my concerns; we will lose the trust of residential customers in Texas:

Utility companies have orchestrated a way to manipulate the Facts Label to show a meager rate and still follow the guidelines of posting their rates at 500kWh, 1000 kWh and 2000 kWh.

Although they are indeed still meeting the requirements of the Facts label, it is, in my opinion, it is very deceptive.

NOW this is how I believe in my opinion how they orchestrated a way to manipulate the Facts Label to show a meager rate and still follow the guidelines of posting their rates at 500kWh, 1000 kWh and 2000 kWh. Let's take 1000 kWh usage; the utility advertises their rate 7.4 cents per kWh.

The following is what posted on their facts Label for 12 months at 7.4 cents per kWh

500kWh -17 cents per kWh,
1000 kWh 7.4 cents per kWh
2000 kWh – 11.7 per kWh

So, HOW is this Possible that 1000 kWh consumption is only 7.4 cents per kWh at 1000kWh but not on the other consumption rates of 500kWh & !000 kWh??

Well, they give precisely at 1000 kWh usage for the month a $90 credit toward that monthly bill. So, if you only do precisely 1000 kWh per month, then indeed, your average cost is 7.4 cents per kWh. However, there is no more credit applied to the monthly account after 1000kWh

The Utility company that advertise 7.4 cents per kWh states in their facts label that the energy charge REALLY is 11.8 cents per kWh

So, why the following posting in the facts label by the Utility Co.

500kWh -17 cents per kWh,
1000 kWh 7.4 cents per kWh
2000 kWh – 11.7 per kWh

Let take the average home electricity consumption of 1500 kWh per month.

You take 1500 x 17 cents = $255.00 minus the $90 discount received at 1000 kWh = $165.00

Now divide $165 by 1500kWh = 11 cents per kWh they will be paying!! NOT what they were expecting 7.4 cents.

This information was taken from an actual Texas Utility company Facts label which was obtained on September 12th, 2020

The second issue Rep (Utilities) in the service agreements are adding additional cost that can scientifically affect what they will pay & all the facts label states read the service agreement for additional charges.

Texas Reps (Utilities) are burring fees in the service agreement!

Which is as follows:
1) Payment Assist Customer care Fee $3.95
2) Agent Assist Customer service Fee $4.95 Per Call
3) Document Processing Fee $3.95 Per document
4) Summary Bill Fee $4.95 for each request
5) Disconnect Notice Fee $19,95
6) Disconnect Recovery Fee $29.95
7) Reconnect Fee $29.95
8) No Electricity usage one month $9.95
9) EZ Pay processing Fee $19.95
10)EZ payment Fee $5.95
11)Make multi payments per month $5.95
The above additional fees did not include their normal standard insufficient Fee $29.00 5% past due Fee

These charges were taken off a service agreement from Utility company advertising very cheap rates.

The mission was for the PUC to make it simple to compare apples to apples and not apples to Oranges. Like shopping for gasoline, which is simple, you see what the price is on the pump and that what you pay.

Well, unfortunately, in my opinion, PUC failed in protecting the Residential customers in Texas. They need to update the FACTS label.


Have a Great Succesful Day !

Sincerely,
Steven F. Trimarco
Real Corporation
956 381-4446
www.realsmartbuyer.com



🕵️🕵️🕵️🕵️🕵️🕵️🕵️🕵️🕵️🕵️☛☛ Why you use an Energy Broker 🌟 & Why Us? ☚☚ 🕵️🕵️🕵️🕵️🕵️🕵️🕵️🕵️🕵️🕵️

Now it is a misnomer that you will indeed save money by not using an Energy Broker.

This is due to deregulation in Texas, which has changed the market place from a straight forward market to understand, to one that is very complex.

Well, everyone cannot be a specialist in every field. Would you hire a bookkeeping business to do your company Taxes, or would you hire a CPA firm?

Yes, you can save money, hiring a bookkeeping business over a CPA firm. However, CPA that specializes in Tax preparation would save you a lot more money in reducing your tax and protect you from penalties.

The following is why there is a need for a Professional Energy Broker to secure your electricity rates along with excellent service plan for your company:

1) Calling directly to a Utility company will not necessarily get you a better price versus an Energy Broker. Where like our Energy company we has 19 utility companies competing for the same business;
PLEASE NOTE --There are parent companies that own multiple Utility companies, where the parent company will allow only one of it sister utility companies to bid for your business thus reducing your chance to get the best rate/terms that best meet your needs;

A)Parent company and sister Owned by the parent comapny.
Just Energy -- Amigo Energy, Hudson Energy, Interactive Energy Group, Just Energy Advanced Solutions, Tara Energy, Terrapass, EdgePower Inc.

NRG -- UT Retailers LLC, Discount Power, Reliant Energy, Cirro Energy, Green Mountain, PENNYWISE Power, Texan Energy

Vistra Energy -- TXU, TriEagle, Ambit

Furthermore, there are multiple Electricity products to consider that reflect different rates that you will be quoted by Utility company and the various degrees of risks that you will be exposed to with that type of contract such as: (Keep mind the higher the risk, the lower rate will be quoted)

A) Fixed rates quote without congestion charges;
B) Fixed-rate quote with meter fees will be charged when you drop a threshold of usage that month;
C) Fixed rates quote with meter fees regardless of usage, which vary from company to company;
D) Fixed rates quote that will include in the electricity rate congested charges in the rate. Thus, giving you a true fixed rate;
E) Variable rates quote, which there are many different formulas, but generally, there is a fixed portion of the rate and variable component to natural flexing gas;
F) There are index pricing which has a variable formula such as; Price per kWh = (Monthly Natural Gas Price multiplied by Applicable Seasonal Natural Gas Factor) + Energy Charge + ((Monthly Charge + Monthly TDSP Advanced Meter Surcharge)/Monthly billed kWh Usage)

Furthermore, there are two other things to consider other than the electricity rate that you will choose what utility company you want to go with:

1) Their credit requirements will determine if a deposit will be required or not (If a deposit is needed Utility have different deposit requirements)
2) cancelation fees, if applicable, if you move or close a location. (Some will not charge a cancellation fee if you close a location and some will. Furthermore, if you move there may be a fee or no additional fee, where some Utilities will charge if new location usage is less or more than when you moved from)

To summarize, at one time before deregulation in Texas, you can shop safely buying electricity because you pay what you expect, like buying gas for your car; you pay the price stated on the pump. However, buying electricity in Texas is BUYER BEWARE.

Once again, no one can be a specialist in every field. Using a Professional Energy Broker will save you money. Furthermore, if rates drop, they can Approach the Utility Company to request to renegotiate terms in your contract to reduce your electricity rate. Now, I ask you how many utility companies that you sign up without using a broker will call you and ask you would you like to reduce your electricity rate?



Have a Great Succesful Day !

Steven F. Trimarco
Real Corporation
956 381-4446
trimarco@realsmartbuyer.com
www.realsmartbuyer.com


☛ ☛ ☛ ☛ ☛ ☛ ☛ ☛ ☛ ☛ ☛ ☛ ☛ ☛ ☛ ☛ ☛ ☛ ☛ Disclosure ☚☚☚☚☚☚☚☚☚☚☚☚☚☚☚☚☚☚☚☚☚☚

We represent some 19 Utility companies in Texas, and the utility company pays our fees.
Just like when you buy gas at a gas pump, you only pay what on the pump and no more no less.
The rates we provide you is all you pay. Utilities instead of paying their salespeople pay us, which is in the price quoted you.


Text
Text